Faust - Language and Culture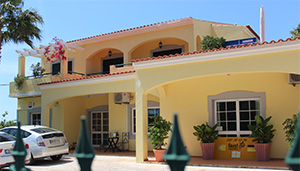 FAUST is a well-established language school, officially recognised by the Ministry of Education in Portugal.
Our professional teachers use methods which promote natural learning for beginners starting, as a child might, with listening and speaking which then naturally progress to the written word.
This approach differs from conventional methods, where teaching reading and writing skills first can often leave students with little confidence and ability to communicate and use their new language in the real world.
Not only is our way a successful means to start speaking a foreign language, learning can be a lot of fun, too.
The school is open for lessons Monday to Friday (9:30 am – 12:30 and 3:00 - 10 pm). To arrange a free assessment or receive further information, please call within office hours (9:30 am – 12:30 and 3:00 - 6:30 pm).
Address:
EN 396 Semino
8125-303 Quarteira, Algarve, Portugal
(near the Aquashow)
GPS:
latitude. 37° 5' 24.539" N
longitude. 8° 4' 30.593" W
Tuesday, 19 September 2023 - Courses

Register Now for Portuguese Classes in the Academic Year 2023/24! Are you ready to embark on an exciting linguistic journey? We are thrilled to announce that registrations are now open for Portugue... Read more
Thursday, 07 September 2023 - jobs

Calling all English Language Enthusiasts! Are you a dynamic and dedicated native English speaker? Do you have a passion for effective communication? Join our team as an EFL-Teacher and help others... Read more
Intensive A2 course August 14th to September 25th Monday to Friday 2 - 4:30 75 hours QUARTEIRA on-site in a small group For students who have already achieved the A1 Elementary le... Read more